BCSG are a National Champion in the European Business Awards 2014/15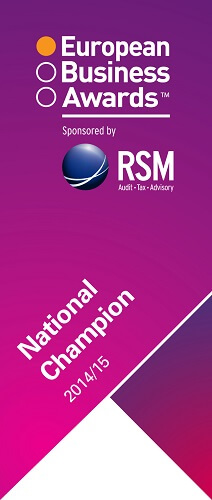 BCSG are proud to announce that we have been chosen as a National Champion, in the category The Business of the Year Award with Turnover of €0-25M. We will now be going on to represent the UK in the 2014/15 European Business Awards for the same category.
The European Business Awards, now in its 8th year, recognises and rewards excellence, best practice and innovation in companies across the European Union. Sponsored by RSM International and supported by business leaders, academics, media and political representative, makes it a prestigious competition to be a part of.
This year it engaged with over 24,000 businesses, from 33 European countries, with 709 companies from across Europe have been named as National Champions; going through to the second phase of the competition. Along with a panel of judges deciding the best of group, the public will be able to vote for a "public champion" for each country.
John Davis, Managing Director of BCSG said "We are delighted to have been selected as one of the UK's national champions.  It is a testimonial to all the hard work we, as a company, have put in over the years. Being considered a national champion alongside the likes of British Airways plc, admiral group and Charles Tyrwhitt is something we are incredible proud of."
For more information on the awards, please visit www.businessawardseurope.com
If you want to stay up to date with our latest news and articles, then please follow us: