AIB wanted to set themselves apart from competitors by becoming the leading bank for Irish small businesses. Through the development of a programme of initiatives specifically for SMEs, they put the customer first, and put themselves at the heart of their customers' business management.
The SME Challenge
Many of their customers felt like they didn't have the support they needed to adopt new digital tools to help them to be more professional, use their time more effectively and drive business growth.
AIB undertook primary research which revealed that their SME customers had limited knowledge of the online products and services that can drive business success, and felt digitally unprepared for the future.
The solution
Working collaboratively with AIB we designed and built MyBusinessToolkit. An innovative proposition enabling AIB to differentiate itself in the Irish marketplace, providing SMEs with the tools they need to stay on top of running their business. The bank can deepen their relationship with their customers even whilst moving to digital, as these online tools help  SMEs become more successful.


The platform includes 5 applications:
Mozy pro – SMEs can safeguard their critical data with auto back-ups across all devices
Receipt bank – SMEs can improve their expense management and help save time on reconciliations by digitally capturing receipts
Plan HQ –SMEs can plan for business success by creating a professional business plan step-by-step
Sage One – SMEs can manage their finances quickly and easily with minimal accounting jargon
BOnline – SMEs can effectively promote their business and sell goods online with a mobile responsive website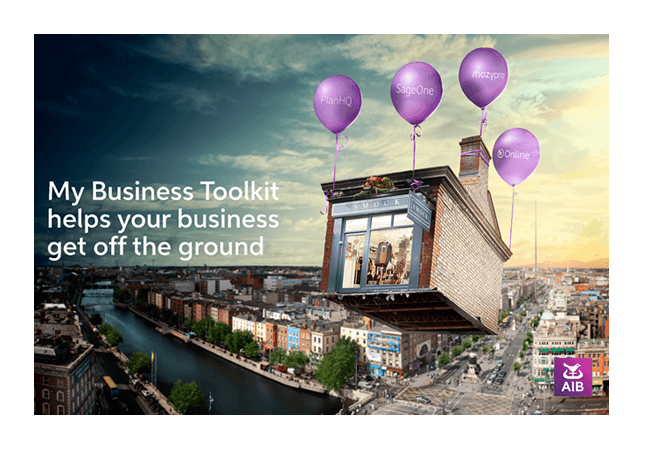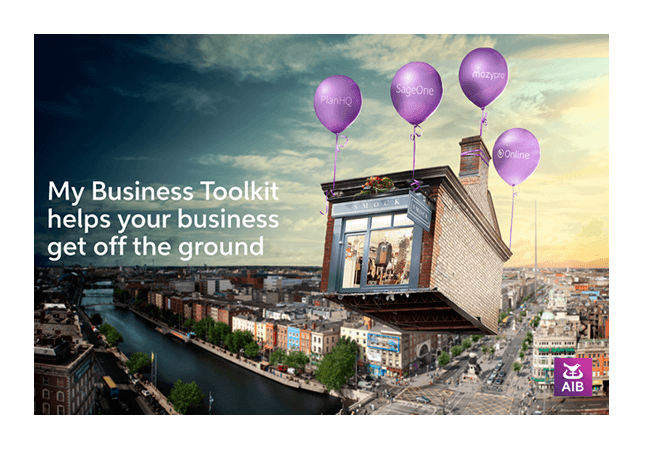 Results
AIB have recognised multiple benefits since the introduction of the service:
– MyBusinessToolkit has helped change the perception of AIB. AIB is not a bank that just talks about supporting SMEs – but are committed to helping customers manage their businesses more efficiently through offering new product innovation.
– Frontline staff have become energised, buoyed up by offering something truly innovative and helpful.
– MyBusinessToolkit has successfully differentiated AIB from their competitors, by offering Irish SMEs something unique in the marketplace.
– The platform has succeeded in deepening and strengthening customer relationships.
Endorsement
"MyBusinessToolkit is a great service! The apps are easy to use and great for small businesses like mine."  Declan Byrne, R&B Locksmiths, Galway
MyBusinessToolkit stands as a product on its own. It provides a real solution to problems Irish SMEs are facing, all in portal where business customers can access all the applications in one place.
Our partnership with AIB was recognised at the Financial Innovation awards 2016, winning the category Best Technology Partnership – a financial service provider or bank that had partnered with a fintech to innovate and overcome the emerging challenges facing the industry, with demonstrable results and future growth potential.

"We are excited to be the first financial institution in Ireland to offer such an innovative product to our SME customers. MyBusinessToolkit offers specific apps that we believe will help our customers manage their businesses more efficiently, taking some of the strain out of the challenges they face."
John Irwin,
Head of Business Propositions at AIB.