BCSG launch MENO & PulseGTM, designed to help telcos ignite new revenue streams with cloud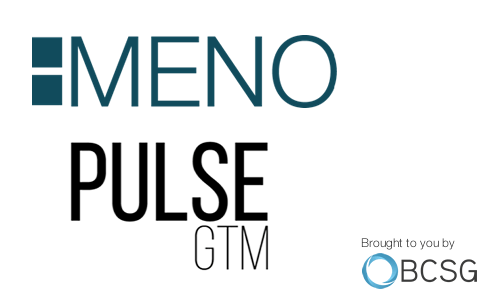 BCSG is delighted to be at Mobile World Congress next week, announcing the launch of two new services, MENO and PulseGTM, which will reshape the way organisations launch their cloud proposition, and empower them with the capabilities to be a success.
The shift towards smarter ways of working using cloud has created an opportunity for telcos to do more for their business customers, by providing SMEs with the digital tools to help them to become more productive, agile and efficient – sitting well with the existing services currently offered by telcos.  BCSG research shows that over 60% of the world's leading telcos are offering SaaS applications alongside their core services.
Whilst a number of these telcos are offering cloud services successfully, many are finding that there are still plenty of obstacles to overcome in order to market a range of SaaS applications successfully.
MENO is a rapid launch cloud enablement solution that allows telcos to start offering business apps to their customers in a matter of weeks. As well as a fully functional, branded marketplace, MENO gives telcos access to a library of built-in tools and resources, proven to help optimise sales performance.  All the apps are market leading, fully integrated and commercially managed by BCSG; ensuring seamless implementation.
To be successful, telcos need to adapt the way they sell and communicate with customers.  This requires a careful consideration of GTM strategy and the application of new ways of working that break away from the traditional approaches used to sell voice and data packages.
PulseGTM is a consultancy service designed to help telcos go beyond selling cloud, and into managing the end to end lifecycle of the customer. The development of an effective GTM plan that supports and educates the customer at each stage of the buying journey is essential, and PulseGTM helps telcos to build the right programme of communications and channel enablement to drive adoption of cloud services, enabling the customer to receive maximum value.
With over 15 years of experience selling business applications to SMEs, BCSG is the ideal partner to guide telcos towards cloud GTM success. The team work with your sales, channel and management teams to transform the customer lifecycle management and sales approach, with tested tools, training, and best practices, proven to deliver results.
Mark Robertson, Service Provider Lead at BCSG said of the service 'With the current business landscape shifting towards digital first SMEs, telcos must move towards becoming a provider of digital solutions. Offering these solutions is becoming a necessity for telcos who want to be recognised as a credible, full ICT provider. We are thrilled to be heading up this market with two new propositions that have been proven to drive results'
Need some more detail? We've got lots more to talk about. Visit pulsegtm.bcsg.com or book a meeting with us by emailing enquiries@bcsg.com