Transforming trade for SMBs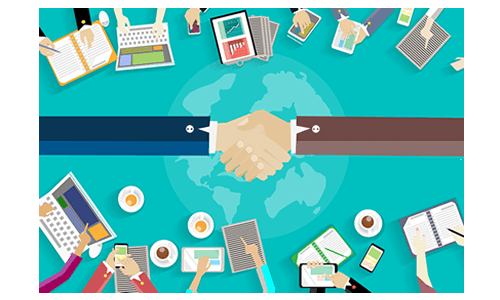 As BCSG's managing director John Davis prepares to facilitate the roundtable 'what can be done to increase awareness and adoption of digital finance by small businesses' at Misys World Trade Symposium on 6th June. We reflect upon why financial institutions have a vital role to play in providing new, digital tools to their small business customers – helping them to grow and thrive in the complex, evolving landscape of global trade.
According to a 2016 report by the World Trade Organisation, SMBs in both developed and developing countries lag well behind larger firms in terms of exporting and importing goods. SMBs in developed countries account for only 34% of exports, whilst in developing countries, exports account for less than 1% of the total service sales of SMBs.
A range of recent surveys have consistently identified the following as the major barriers to international trade for SMBs across the world; poor access to information, costly requirements, burdensome customs procedures and a lack of access to trade finance.
The World Trade Symposium states that 'millions of small businesses and micro enterprises are turning to the growing number of alternative service providers to gain access to finance and investment.' In addition to finance, SMBs need access to the data and information that can help them discover the opportunities of trading internationally. With this, they are better placed to take the steps needed to start trading overseas.
As the trade finance funding gap for SMBs continues to grow (now estimated to stand at 1.6 trillion), banks have a decision to make. Sit back and let this void fill up with third parties, promising the financial inclusion that will drive global growth for SMBs – 0r take action and reinvigorate the bank's age-old image as a trusted business advisor and pioneer of providing services to support growth.
Lloyds Banking Group has taken a crucial first step towards helping SMBs access what can be a considered a pretty daunting business prospect. Through an online trade portal, they've positioned the bank as a gateway to new markets.
Their award winning platform 'International Trade Portal' https://www.lloydsbanktrade.com/en gives small businesses access to a rich platform of data, enabling them to thoroughly research and validate the markets where they are best placed to begin trading their products or services. SMBs can log in for quick access to a dashboard of all their key metrics and data. What's more, information is refreshed regularly, and automatic updates keep them well informed of changes in their target markets.
By partnering with their SMBs with examples like this, banks are well placed to catalyse the rate of financial inclusion by providing, not only lending but the digital tools that encourage a culture and environment of healthier, more informed, trading overseas. Banks then have the opportunity to highlight the financing options they offer to support this further.
By introducing these innovative services, banks can shine a light on the opportunities that are available to their SMB customers.
For more information on digital banking for small businesses, visit the financial institutions tab on our resources page, or to hear how BCSG can help you bring your own international trade portal to life, get in contact with us as enquiries@bcsg.com.