BCSG named Best Technology Partner for AIB's MyBusinessToolkit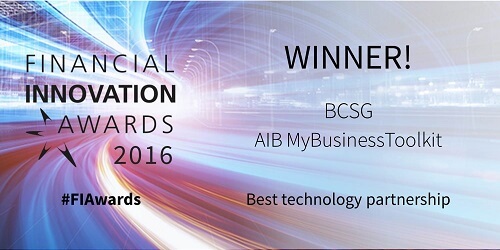 Last night, 8th December 2016, BCSG and Allied Irish Bank (AIB) were named Best Technology Partnership in the bba/Financial Innovation Awards.
Now in their 19th year, the Financial Innovation Awards celebrate the very best projects in global banking and finance. The category, Best Technology Partnership, looked for a financial service provider or bank that had partnered with a fintech to innovate and overcome the emerging challenges facing the industry, with demonstrable results and future growth potential.
The award recognises collaboration between BCSG and AIB to develop the MyBusinessToolkit digital proposition (www.mybusinesstoolkit.ie). MyBusinessToolkit has been designed and developed by BCSG and AIB to help small businesses in Ireland to use essential digital tools and applications to get their business off the ground. The innovative proposition is testament to AIB's in-depth understanding of their customer needs, as well as BCSG's 10 years' of experience in providing online tools to small businesses.
John Davis, Managing Director at BCSG said "Being named winner of the Best Technology Partnership, alongside other winners such Lloyds Banking Group, HSBC, Aktif Bank and ClearScore, is a wonderful achievement. This is a testament to how we work with our all financial institution partners, to fully understand their challenges, and collaboratively develop digital propositions that support their success and the success of their customers. A great way to round out 2016!"
To explore the MyBusinessToolkit platform and see how AIB are transforming digital banking for small businesses, please visit: https://business.aib.ie/help/MyBusinessToolkit
To find out more about the Financial Innovation Awards, please visit: http://fia.libf.ac.uk/winners-2016