Continuing our business journey at FinovateFall 14'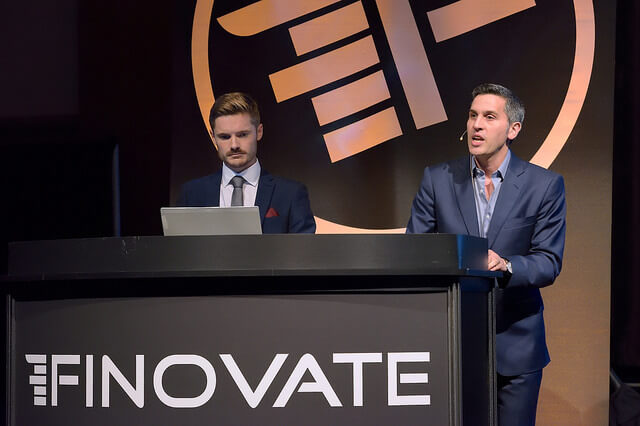 FinovateFall, the first demo-based conference focused entirely on fintech, debuted in 2007 and has gone from strength to strength.  This year opened with a true success story. The story in question focussed on Lending Club, a Finovate presenter from the very first event. Lending Club, a US peer-to-peer lending company, are in the final stages of a $4 Billion IPO- an ambition, no doubt, mirrored by all of the companies waiting to present. This story rather effectively set the context for the 71 companies that presented over the following two days.
This year saw a record breaking crowd turn out to witness the cutting edge of Fin Tech innovation. So much so that the venue was changed to accommodate all that wanted to attend, and even then they sold out. With 1,450 people waiting in the auditorium, Finovate was ready to commence.
For us this was our third time presenting at a Finovate event, and it was exciting to be involved again as we continue on our business journey, especially as the digital channel becomes an increasingly important element for all FIs. As a Finovate Alumni this year was all about showcasing our new, enhanced platform that went live in July this year, in the form of EE BusinessApps. Although this particular iteration of the BCSG platform is a telco proposition, it is easily transferred to financial institutions, allowing them to bring value added services to the small business (SMB) customers they serve.
Our seven minute demo focused on helping financial institutions understand that an opportunity exists to offer highly targeted cloud applications to their small business customers. The reaction we received on our innovation and business model was great across the board. BCSG was singled out numerous times in the twittersphere, with one replying to the question, 'what was the best thing you saw at Finovate today?' "based on what my customers ask for, left field answer, but definitely @BCSGcloud cc @Clagett @bornonjuly4 @waltrcox". This attention also translated into footfall. Many banks from across the globe, mainly North America, Europe and Australia, came and spoke to us about our innovation and how it could benefit them.
These were a great two days in New York, exhausting but very satisfying. Getting to represent the London tech scene in a US dominated event, and presenting alongside a huge range of financial innovations was not only a pleasure but highlighted what an exciting period we are entering as the SaaS market continues to mature and SMBs cry out for more tools to help them succeed in an ever-competitive market
With new contacts made and value added services being front of mind for those we spoke to, I fully expect that we will see a significant change in the way banks look after and service their small business customers.
If you want to stay up to date with our latest news and articles, then please follow us: