BCSG announced as a FSTech award finalist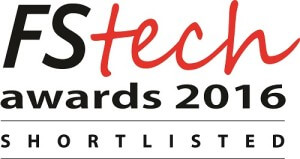 London, 23rd December; BCSG has been shortlisted in the Most Innovative Product of the Year category. The FSTech awards are in their 16th year and recognise excellence and innovation in the field of information technology in the UK and EMEA financial services sector.
BCSG build and deploy cloud-based engagement platforms, which aim to help financial institutions engage more effectively with their SMB customers, enabling them to deliver new and more compelling insights and tools.
"Being shortlisted for this award recognises the work we have done to respond to the pressures FIs are facing in the SMB sector. SMBs are facing many challenges and FIs are in a perfect position to support them through these." said John Davis, Managing Director of BCSG.
"The company has grown exponentially over the past couple of years, and this year the platform has developed giving the FIs greater insights into their SMB customer base. The platform development and delivery has only been possible due to all the hard work put in across the company. We look forward to the winner being announced on March 17th 2016, but in the meantime I would like to congratulate all of the other finalist."
To find out more, please visit: www.fstech.co.uk/awards
To find out more on digital banking for small businesses, visit our resources section