Cloud MENA 2015: the future's looking bright for cloud services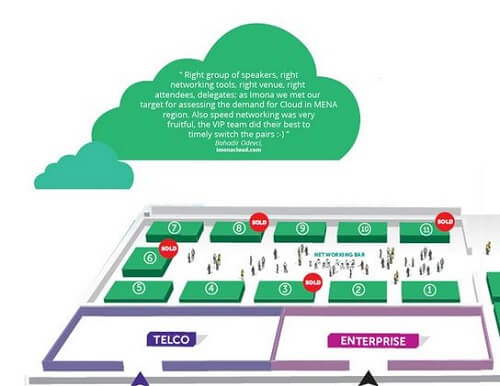 Cloud MENA is getting a name for itself on the global cloud conference calendar. This year marked our first visit, but it certainly won't be our last. Being in the room, seeing so many people engaged, from so many perspectives, and having great conversations all gave us a tangible sense of the momentum building in the region.
And that's not just a feeling; the building blocks are now in place to make cloud services for SMBs a reality: a fact that's backed up by market analysts. Gartner has projected the market will grow by 17.1% in the region to reach $851 million in 2015.  Add that to their prediction of $3.8 billion being spent on cloud services in MENA between 2013-17 and the future's certainly bright[1].
Our workshop, "Driving SMB cloud adoption to deliver business growth plans" kickstarted the conference and provided a valuable opportunity to share insights on the current market position.  Three topics stood out.
A fast-moving market
If you're going to lead with a cloud services proposition, the infrastructure must already be in place. This box is definitely ticked, with the cables in the ground, broadband available, 3G and 4G service on offer – they're all there. Equally importantly, so are the regulations and protocols that give organisations and individuals the peace of mind needed when it comes to data security.
As we heard later in the event from Ahmed Baig Snr, Director of Strategy, Risk and Excellence at Smartworld, security frameworks are now robust enough to not hold back the move to offer cloud services. And the consensus at the workshop was that governments in the region are starting to define a model for data residency that's workable and practical to implement. In short, the region has all the right pieces in place and is starting to see the investment to address concerns.
Adding SaaS to the IaaS mix
Historically, providers have led with a focus on offering IaaS to business and enterprise customers. They have the capacity and they're keen to monetise it. That said, a good deal of interest is emerging in propositions that put SaaS solutions in place to address essential SMB needs.
For example, Oroodeo is now offering apps like TU, using WiFi to help people make calls without needing a mobile signal, and PTT, which lets companies use mobiles as 2-way radios. Both apps are communications focused, which is often the right place for telcos to start: sticking close to the core value proposition with SaaS, diversifying over time.
Attendees of  our workshop were clear: there's a thriving SMB customer base in the region and an extensive offering of SaaS and IaaS will quickly become an essential part of business life. The key for telcos is finding the right services and offer them through the right channels.
Tailoring applications to suit the region
That brings us to the third insight our workshop offered us: the need to localise applications. This matters where regulations are concerned, of course. But it's also important to understand and adapt to the characteristics of the target audience.
For example, in this region small businesses are typically smaller in size than those in markets like North America and Europe. As a result, they'll only want to pay for user licence packages of that size, and not the larger batches available for subscription services, for example.
Experience welcomed
No matter whom we talked to, there's an acceptance that MENA telcos need support if they're to harness the projected growth in demand for cloud services. That includes finding the right model to deliver these services, training sales channels to effectively support customers, sharing best practice and learning through testing. With the momentum that's gathering, they'll be able to effectively navigate the more arduous, time-consuming lessons learnt in other parts of the world.
[1] Gartner quote in Gulf news.
For more on telecoms cloud services, visit our solutions for telcos page