How services, combined with technology, drive success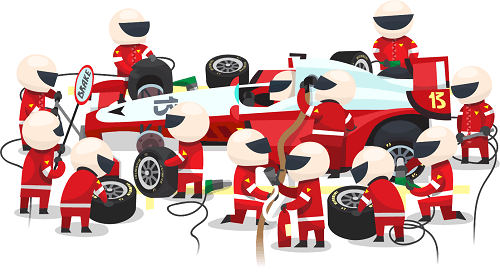 It's more than the technology
In Formula One Racing, winning depends upon a myriad of factors, not just the car. The pit team, the skill of the driver, wheel choice, fuelling tactics, race strategy, all play a part.  Similarly, building a successful cloud solutions business is more than the technology.  You need business capabilities grounded in an understanding of cloud services, encompassing everything from developing an effective go-to-market strategy, through enthusing your channels, to selecting partners, to designing propositions, to supporting customers.  Building such capabilities is actually more challenging than getting the technology in place.
Investing in people and processes
A significant investment in people and processes is needed to make your business a success.  Expensive mistakes may be made.  With limited cloud specific experience to draw upon, you're likely to be forced to adopt a trial and error approach, with the associated delays and poor business models this can entail, whilst being under pressure to deliver quick results. We see huge variations in the time taken to launch and in the success of launches.  Having the skills in place early is vital if business targets are to be achieved.
Achieving results through service partnership
Your technology provider should be experienced in supporting launches. They should be able to help at all stages; they shouldn't just give you the racing car keys and walk away.  The services you may need could be considered as:
Go-to-Market and channel enablement e.g. channel activation and end customer engagement
Propositions and vendors e.g. application selection, on-boarding and management.
Customisation e.g. platform localisation and content management
And,
Customer and client support e.g. billing and customer service
Accessing these services through your technology provider greatly reduces costs and delays, and increases the probability of success.   Our partners use them to close their capability gaps.
Whilst many of your needs may be shared with others, you will also have unique requirements driven by your specific business model.  For example, customer service may be a straightforward 'make/buy' decision or, you may not allow outsourcing and need support in training your own customer service agents; your channel strategy may focus on face-to-face relationship management rather than inside sales.  As such, your technology provider should offer a flexible and comprehensive service portfolio moulded to your requirements.  If your technology provider can't provide such a portfolio, they may be handing you the keys to an expensive car that you can't safely drive.
Find out more about BCSG's approach to enabling success though supporting services here.
Alternatively, for more insights on cloud services for telecoms and to discover what other telcos are including in their cloud application marketplace, download our report, What's being offered? The SaaS proposition of some of the largest telcos worldwide: